Southern Manufacturing & Electronics 2011

Friday, 14 January 2011

Come see us at Southern Electronics 16th - 17th February at FIVE,

Farnborough - we're on stand 61.

Show web site: http://www.industrysouth.co.uk/


LPKF SL6080 Stencil Laser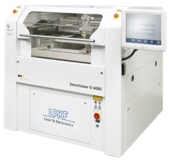 Thursday, 15 May 2008

Sparks Laser (UK) has installed a LPKF SL6080 stencil laser, our fastest and most precise system. This machine will further increase our cutting capacity and ensure customers receive the highest quality stencils with fast, reliable turnarounds.

Nepcon 2007

Thursday, 10 May 2007

Come see us at Nepcon 2007 15th - 17th May, Birmingham NEC - we're on stand K62.

Show web site: http://www.nepcon.co.uk/


Sparks at Southern Electronics 2007

Wednesday, 10 January 2007

Sparks Laser Services will be using the Southern Electronics trade show (7-8th February 2007) as a platform to promote our recently installed LPKF Microcut laser system.

To discuss how our new facilities can help you please visit our stand (D19).